You're surely bored of that one claim about content marketing. You've heard it too many times before. It's included in every single content marketing guide you can find online. But here it comes again: content is king!
No matter what marketing trends we see developing, one factor remains unchanged: in the contemporary marketing climate, everything revolves around content.
Although this is a consistent focus, the content creation strategies develop over time. What trends will set your direction over 2018? Let's list 10 of the most important ones you should consider.
Repurposing Content
When we think of content marketing, we usually put fresh content into the focus. If, however, you start developing evergreen content that directly answers questions and solves problems, you can use it on the long term.
According to the statistics provided by Curata, only 29% of marketers systematically repurpose and reuse content. That's not a huge percentage, but the trend will definitely become more popular over 2018.
Authentic Brand Voice
Why is that a trend? – Because we've been seeing too much of the same content lately. It's time for all brands to start investing more into original content that conveys their authentic voice. In 2018, people have more options than ever, regardless of the buying decisions they are about to make. The plethora of options increases their need to search for authentic and transparent brands.
This means that clickbait is dying, and the development of original content is on the rise. Maybe such a strategy will require a greater investment.
Mobile-Ready Content Is No Longer an Option; It's a Must
The number of smartphone users is expected to grow to 2.53 billion over 2018.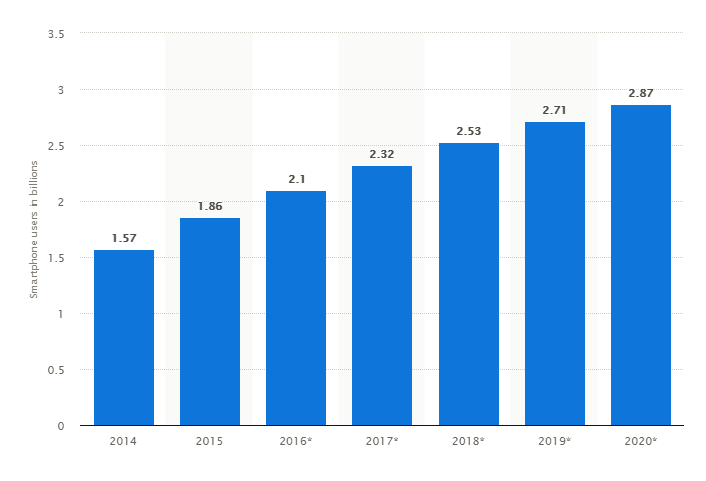 With smart devices becoming more accessible and the world getting busier by the day, it's clear that mobile-ready content will be not a recommendation, but a priority for marketers.
Social Media Influencers
Instagram stories are changing the industry. People love watching fragments of someone's day, and influencers are using that preference to their advantage. Why is this important for content marketers? This is the type of content that drives purchases.
The Instagram Shopping feature is available via stories, so you can easily start relying on influencers for content marketing purposes. The best part is that this content will drive people to direct action.
Greater Attention to Analytics
How effective are your content marketing strategies? Are you getting any results or are you throwing time and resources away? It's time to talk about analytics!
It's important for you to track the customer's journey through different stages of the funnel. Quantitative analytics are based on measuring conversions, SEO opportunities, traffic, and engagement. Qualitative analytics, on the other hand, are focused on finding usability issues and getting real-time visitor insights.
Adaptation of the Message in Accordance with the Channel
So far, we've been seeing the same message delivered over all channels in an identical manner. Let's take Coldplay as an example. You'll see the same content delivered on Facebook, Twitter, and Instagram. This is a pretty popular band, so that may work for them. For an uprising content marketing campaign, however, the approach "identical content across all channels" no longer works.
You'll still deliver the same marketing message across channels, but the content won't be identical. It's time to start adapting your content marketing strategies in accordance with the preferences of the audience on a precise platform.
Live Video
In September 2017, 78% of online audiences were already watching videos on Facebook live. On average, live videos had an engagement rate of 4.3%. When compared to the engagement rate of 2.2% for non-live videos, that's a huge difference.
Live video can be scary, but you can always rely on influencers, who are already comfortable in front of the camera.
Internet of Things
This trend is getting direct conversation to the next level. People are already using Internet-connected TV sets, ovens, air conditioners, and all kinds of devices. Google Home, Alexa, and Siri are becoming part of their daily lives.
With the mainstream adoption of the Internet of Things, content marketers get tons of opportunities to measure valuable data and deliver more appealing content to their audiences.
Social Listening
This has been a trend for quite a long time, but the focus on social listening is only getting greater. A report from 2017, called The State of Social Selling, showed a substantial increase of the search phrase "Can anyone recommend?"
This tells us that people are looking for social proof when they are about to spend their mind or time on something. What does that mean for marketers? You have to focus on listening to your target audience and creating more social proof for your brand.
Snackable Content
Snackable content is a relatively new trend in content marketing. It indicates silent, short visual content that's easy to watch and understand in no time. It may come in the form of how-to instructions, infographics, quotes, live videos, and other types of content.
The important thing for a marketer is to use snackable content for promoting a brand in the best way possible.
What type of content are you going to create? The answer to that question is mainly dependent on the type of brand you're promoting and the type of audience you're trying to attract. However, it also depends on the trends within the content marketing industry.
Hopefully, the list of trends above will help you take your content marketing strategy in the right direction during 2018.