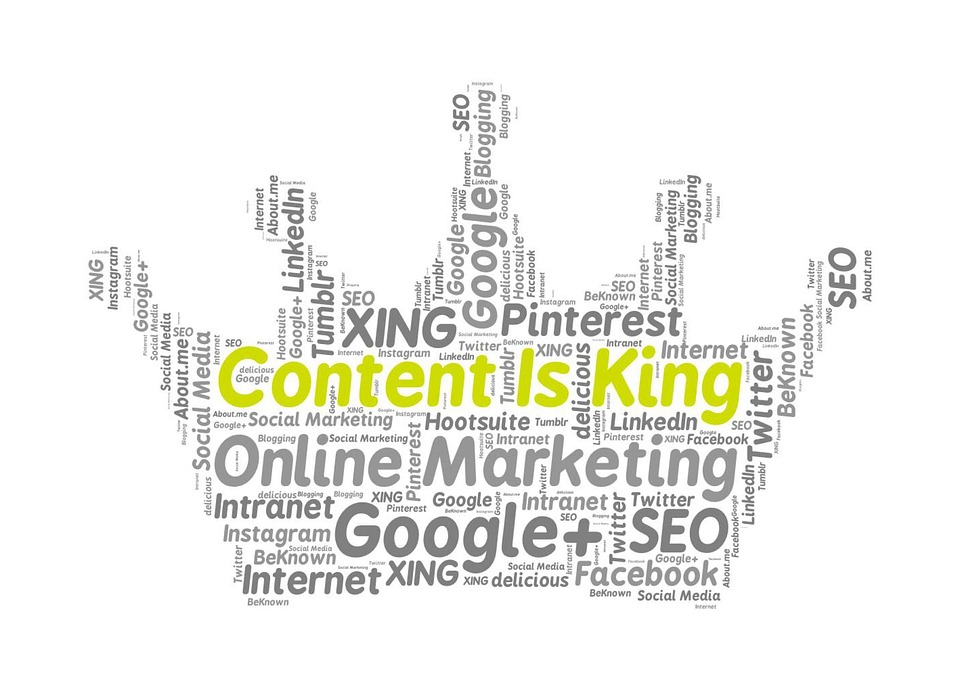 Content marketing is not just about blogging – though too many marketers think that it is.
Don't get me wrong – blogging does indeed make up a huge part of your content marketing efforts. But by no means should it be the be all and end all.
So here I want to explore 8 types of content that you should be building into your repertoire to ensure that you're keeping your output fresh, interesting and engaging for all of your valued followers.
Blogs
Ok – I know it seems like I'm backtracking already, but blogging is the most important part of all of your content marketing efforts, so I am deliberately mentioning it first.
No matter what other forms of content you are creating, your blog will form the backbone that supports everything you say and create. When you start creating videos to deliver your brand message far and wide, your blog will be there to hammer it home in greater detail. Infographics may very well let people in on and gasp at some cool stats and facts, but it's your blog that will back up all the details.
So, blog, blog, blog – and do all the rest around it.
Infographics
Infographics are huge. According to massplanner, infographics are liked and shared 3x more than any other type of content on social media. And businesses love creating them – the Content Marketing Institute reports that Infographics were the B2B content marketing tactic with the biggest increase from 2014 to 2015, up from 51% to 62%.
The figures speak for themselves (perhaps you should create an infographic explaining them).
Memes
Love them or loathe them, memes are big in 2016. The internet – and especially the younger generation – love them, so you should be building them into your content marketing strategy most definitely.
Memes can be used as some light comic relief for your blog, or they can be created to go out in isolation, perhaps as a tweet, or an Instagram or Facebook post.
Video
2016 has brought video to the fore in a big way.
Check out these stats:
Social video generates 1200% more shares than text and images combined
Companies that use videos enjoy 41% more traffic
Videos on landing pages produce 80% more conversions
Get the picture?
Thankfully, video creation is much cheaper and easier to accomplish than it once was. Check out our last blog '10 Great Free Resources of Stock Video footage' to find where to go to start making videos today.
eBooks
All marketers know the value of written content – that's why they write so many blogs! But far fewer really appreciate or even explore the other formats.
eBooks are great things to create. The idea of them, generally speaking, is to take a look at the wider industry in which their brand sits, and consider the state of things as they are, and what's to come.
eBooks can also take the form of guides, or extensive tutorials for how to use or make the most of a particular product or service that the business offers.
Whitepapers
Whitepapers are different to eBooks in the fact that they are generally much more introspective. They focus on the core value proposition of what your business offers, and are a great opportunity to ensure that you're delivering this message in no uncertain terms.
It can be useful to think of your whitepapers as the core manifesto of your business. That is to say that they deliver the key information on your very reason for existence, what problem you are trying to solve, how you solve it, and why you are the organisation that is best placed in the industry to do so.
Reviews
Reviews are not blogs, and should not be treated as such.
Good reviews are proper inbound creations. The purpose of creating them is not to inform your audience about your brand and what you do, but rather to reach a wider audience, and entice lots of shares across social media and bring awareness of your existence to a larger online community.
From this point, some of your new followers will no doubt have an interest in what you can offer. It's playing the long game for sure, but will ultimately earn you more traffic and occasional leads.
Daily News
If you want to increase your traffic, then get up early in the morning and write the latest industry news and get it all over your site.
You want to try and position yourself as the number one source for what's hot in the industry, and generate a ton of shares and engagement off the back of it. You'll be surprised how a few well-timed news shorts a day (and they only have to be 250 words) can earn you so much more exposure and traffic in just a few weeks. Give it a go!!
What else should be in your repertoire? Let us know in the comments below.
John Waldron is a writer with markITwrite who regularly writes on lifestyle and technology. He is also a fiction writer who has penned a number of short stories, play scripts, and stories for children. He is the author of the foraging blog, First Time Foragers: Recipes and Stories for Beginners. He has a First-Class Honours Degree in English with Creative Writing and an MA in Professional Writing from University College Falmouth, Cornwall.