Successful blogging is about creating quality articles on a regular basis and quality articles can only be created when you organize your blogging. An editorial calendar is a process by which you are able to organize your articles, execute them, and give them a deadline for publication. By this definition, we can divide the blogging editorial task to three distinguished processes:
Planning
Execution
Publishing
When it comes to creating an editorial calendar, there is not a one-size-fits-all strategy and you have to create your strategy according to the requirements of your blogging. An editorial calendar does things to your blogging:
It helps you create a plan for your blogging
It gives consistency to your blogging
It gives a uniform styling to your blog
But what actually is an editorial calendar?
As its name suggests, an editorial calendar is a calendar where you mention the entire quota of your articles along with the tentative ideas, and publication date of the articles that you are going to publish in a day, week or month. With an editorial calendar, you have more control over the articles you are going to publish on your blog.
Being myself a blogger and an academic researcher for essay writing, I know the invaluable benefits editorial calendars can offer to you. Being in-charge of my blog, I have been using an editorial calendar for the past many years and I can vouch for its many advantages. Among the many benefits, the most valuable is the element of productivity it creates in my blogging due to the organization of work.
Here I'm going to share the step-by-step process that you can follow to create an effective editorial calendar:
Create A Blogging Strategy
Successful blogging begins with a good strategy. So don't just jump on to creating an editorial calendar without a blogging strategy. A strategy helps you set goals for your blogging, plan the topic ideas you will be writing for your blog, and set a frequency of your articles. A good strategy will be a big time saver for your blogging and you will be able to get better results in quick time.
Find An Editorial Calendar Tool
To create an editorial calendar, you need to have a calendar in the first place. While there are many editorial calendar tools, I personally like Google Calendar. The simple interface and easy-to-use functionality are what make it my favourite editorial calendar tool.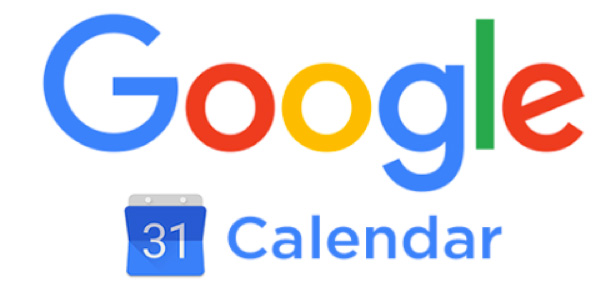 The application allows you to set dates for your upcoming posts along with other crucial details. The application offers many other features that include "Reminders" where you can add "to-do" lists and "Smart Suggestions" where the tool auto-suggests titles, locations, and contacts. There is also a "Goals" feature where users can mention a specific goal.
A user can also invite the other users on the calendar and set the restrictions for the use of the application by other users. For example, you can adjust the view of the calendar and set the part of calendars that can be viewed by other users.
Create the Entire List of Articles
In the next step, you will be creating a list of ideas you are going to cover in your blog. It will be based on the blogging plan of the entire quota of articles you are going to write in a day, week, or month. In a blogging plan, you can mention the entire ideas of the article that you intend to write on.
For example, I am a travel blogger and I make a plan of my work every week where I mention the ideas for my future articles. Here is a list of all my article of the next week that I've created in the Google Sheet:

In this sheet, you can see the six different columns where I've list entire articles that I'm going to publish this week. The sheet gives details of the articles along with tentative titles, keywords, pseudo names of authors and categories. It gives an order to the publication of articles that me and my team is going to write in the running week.
This sheet helps me keep tabs on the content that I publish during the course of a week. So I'll have plenty of time to evaluate their quality so that only the best articles go live.
Document Your Schedule
Once you have a list of ideas in place, you need to line them up in the right order in the editorial calendar. It is better to set a weekly schedule of articles as it will make it easier for you to organize your work and keep a check on them.
Keep a strategic approach and don't publish articles just like that. You should publish a mix of different articles on different topics. In this way, you'll be able to cater to a diversified range of audiences and fulfill their needs. Besides, there are certain days in the week when you want to publish a specific type of article.
In my own case, me and my team write different types of articles on different days of the week. Let's check out my editorial calendar for the coming week: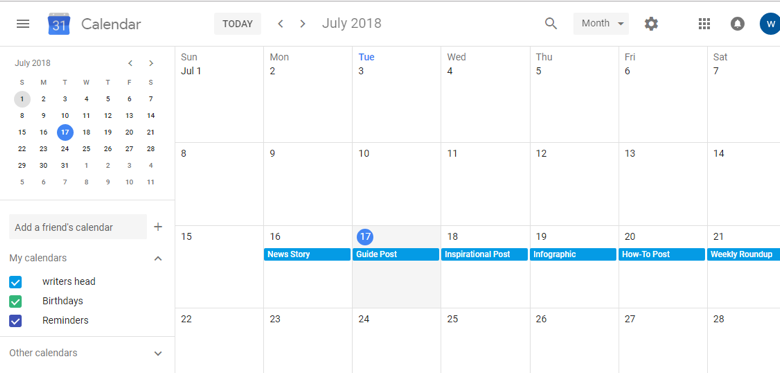 Here you can see that I've lined up articles strategically on the different days of the week. The most important among them is my last post "Weekly Roundup". In this post, I'm going to write down the best places to beat the summer in the month of July.
So I'll be publishing here a listicle of some of the best places to visit in the month of July. Since it is the last day of the week, more people will be interested to read this post to find the best places where they can spend their weekend.
An editorial calendar is your roadmap for a successful blogging. It helps you make an order of your blogging and gives you more control on what you publish on your blog. The key is to keep a non-linear approach and try a different order every week. So keep reshuffling your post types every week and do something new to retain the interest of your audience.