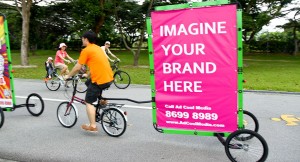 When it comes to branding your company, there are 3 core principles you need to bear in mind: preparation, promotion and presence. If your brand is not appealing to what consumers want from your industry, you'll find it hard to convert leads into sales.
From the story on a bottle of water of where it's sourced from, to the type of animation used in John Lewis's 2013 UK Christmas advert (brilliant), everything is carefully branded to appeal to what a company's target market would react to.
With this in mind, let's get some further insight into company branding and the idea of preparation, promotion and presence.
Preparation
Before you can even think about promotion, you need to prepare. This is the part where you establish your brand's fundamentals and work on how this is going to appeal to the target audience you have already carefully researched.
What are your company's core concerns? Are you going to give people the same service no matter where they are in the world?
Look first at the following:
Brand persona
Your brand's strengths
How your brand benefits the lives of your customers (USP)
Who your brand is primarily for, and why (buyer persona)
What general benefits your brand provides for existing and potential customers
With that in mind, you mustn't let your branding do all the work. You actually have to make good on your promises. There's no use preparing for anything if you're going to sit back and hope everything sorts itself out just because you've created a fantastic plan.
It's equally important to retain your customers as it is to draw them in in the first place. If you don't spend time adhering to a consistent company brand image, then you'll be breaking your promise to consumers and your customers will no longer trust you.
Promotion
When promoting your business you need to display a distinctive personality. If your company appears to be too similar to your competition, or doesn't offer anything new, you won't connect with anybody. You need to ensure your company branding enthuses this during promotion. This should include your brand persona, which should adhere closely to what appeals to your audience in terms of:
Tone of voice
Colours in logos etc across platform
Company ethos
Mission statements
If you want to turn your brand recognition into brand loyalty and eventually reliable brand equity, you need to consider these factors:
Design – font, logos, shapes, etc
Advertising – where and how you're going to advertise, and how much you're budgeting for it
Partnerships with other companies or sponsorships
In essence, you just have to ensure your brand is original, distinctive and likeable. There'll be no point trying to promote it if it isn't. However, promotion will also depend on budget and you should attempt to build relationships with clients and industry thought leaders from the very beginning. This means getting out there on industry discussion, social media and any other means that are within your capabilities and budget.
Presence
Good branding ensures your company sticks around in the long run. If you're not planning to persevere or be adaptable to cultural shifts then it would be a waste of time creating a brand.
An easy way to ensure that your brand can evolve with time is to keep your customers as your number one priority. Constantly researching your customers' needs and lifestyles will make it easier to sustain a relevant brand. Many companies achieve a longstanding presence by expanding their business into other territories and in the process create whole new complementary target markets and sub-brands.
You can do this by investing in additional product ranges, e.g. diet versions of full fat food products. You can do it by breaking into completely different industries but keep the same parent brand, with multiple individual brands underneath it, like Unilever. This expansion route should ensure a longstanding brand presence, as you'll have a large enough number of sub-brands to keep your enterprise going should any of them not have a strong enough brand to survive.
Get Social
Branding your company is all about developing a relatable persona that connects with people on a personal level as well as a formal level. Despite most of the population living in austerity with shopping traits governed by price and price alone, you shouldn't ignore the power of branding to catch their attention. Even if you're a discount retailer, success will be easier to find when you have a personality.
One of the best tools when it comes to relating your brand to your audience is of course social media. Ensure that your brand's kept consistent across all social platforms in tone, colour and so on. Be friendly, interact with the audience and if you have built a brand that works, you'll soon be recognisable to them and gain that all-important engagement, the Holy Grail of digital marketing and every brand out there.
Make sure you keep the 3 Ps of branding at the forefront of all your branding decisions and this will mean that you have a clear framework to launch from. Make it your New Year resolution:  Preparation, Promotion, Presence!