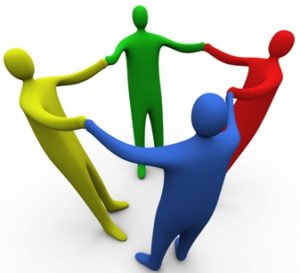 So you've probably got marketing plans aplenty, with the aim of attracting more fans. Fans – or customers – are vital, of course`but you can get a lot more of them with the use of influencer marketing. Influencers' opinions have far more weight with your potential audience than any number of slick print or social media ad campaigns you have in mind, so it's important to get them onside if you can.
Of course, you're probably familiar with stories of, for instance, people flocking to copy the latest celebrity haircut – but don't go making the mistake of thinking that celebrities are the only people who can influence. You yourself perhaps follow some high profile marketing types on Twitter, or perhaps a trade magazine editor or two, people whose word matters in whatever industry you're in.
Social media is perhaps the best ways to get influencers on side. First, you're going to need to have built up your social media network and website to a credible level, an influencer isn't going to risk his or her reputation extolling the virtues of a business that never updates its Facebook page and whose website hasn't been updated since 1998.
Let's take a look at the types of influencer you'll find.
Industry influencers are the people that carry most weight in your industry, and are most likely to get your traffic. They have a large following in social media, are thoroughly engaged in it – with a lot of content sharing – and have a popular blog.
So make a list of the biggest hitters in your industry and visit their blogs and social media sites. From those, you should be able to add a few more industry influencers to your list. Get these people onside and things really will be looking up.
Amplifiers help you to find the right connections, your followers are twice as likely as most to follow more than 20 brands, 54% more likely to tweet via mobile, and are, therefore, very likely to share your content. According to Social Media Examiner, amplifiers are "audiences within audiences" and this is discussed in a podcast interview with Jeffery Rohrs. According to Jeff, it's not all about the sending and receiving of messages, it's all about how this message can then spread.
So how do you identify amplifiers? There are tools to help you do this, try Topsy, for example, this allows you to paste in the URL of an influencer blog post and see who's shared the post and who Topsy believes are influential.
Then there's the positional influencer, which is someone in close proximity to your target audience – for instance, the speaker at a conference. In fact, it could even be a member of your target audience if that person has a little more influence than the others.
What's the best way to engage influencers?
Twitter is perhaps the strongest social media platform for this. Using Twitter you can:
Retweet their updates – sharing their content will get you onto their radar, and make them feel positively towards you. Share any blog posts of theirs too.
 @mention them – Don't immediately start bigging up your content, however. Just engage in conversation first, perhaps thank them for something else they've recommended. You can bring up your own service, business, whatever later. Avoid direct messages though, people often don't even read their DMs, as they're so prone now to being abused by spammers.
Other options to get influencers to look favourably upon you include linking to their blog from your website, especially good if the link generates plenty of traffic. And if you've got a big audience yourself, why not offer to write a guest blog for that influencer? It gets them more people interested, and it gets the influencer's audience interested in you in that when that you appear on their blog it's almost a recommendation of your company in itself.
And remember to connect with as many influencers as you can across Facebook, LinkedIn, Google Plus and others too.
Top social media tools
To finish, here are a few tools you can use to help with the task of getting the influencers onside.
Followerwonk lets you search for phrases related to your industry and find out who's been talking about them on Twitter – letting you see who's got the most influence in that field.
Triberr imports your content and allows the 'tribes' – groups of bloggers who write about related subjects – to easily find and share your content.
Inkybee searches for influential bloggers and offers you data on their engagement metrics and links to their social accounts.
Nobody is saying that it's a simple matter to find and get the attention of top influencers, like many things in social media marketing it's a case of not being self-promotional but sharing good content and producing content that's even better. If anything is going to get you noticed, it's unlikely that your winning personality will top great content.
THE word in professional, persuasive, digital writing. Specialists in writing, tweeting and social sharing for businesses across the globe.