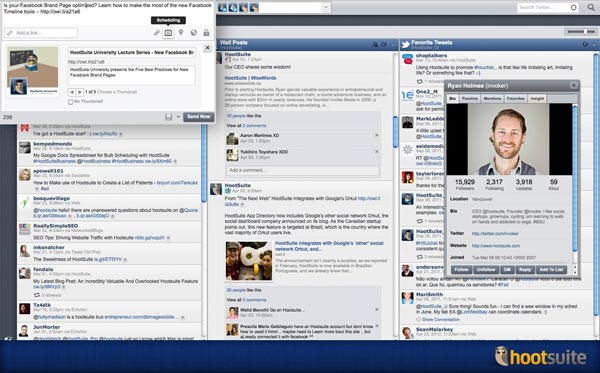 For those of us managing several social media accounts, the standard client software tools can be something of a hassle. Even if you're just managing your own twitter account, but having to run a business at the same time, it can be difficult to ensure that your tweets are being put out regularly and at the best times.
That's where third party software like Buffer and Hootsuite come in. They can offer social media managers control over several networks from one program, seriously cutting down on the amount of time spent developing a social presence. But which is the best for your business? Both pieces of software have their advantages. Both have a free version, and both offer premium versions, but there are differences between the two.
Core features: HootSuite
HootSuite's core features are numerous, too many to name here, the most important ones include:
Scheduling social media updates (Facebook, Twitter, Google+ etc.)
URL shortening
Reports and relevant data on user click-throughs
Filtered social media streams (allowing you to track a certain hashtag or popular trend)
RSS feed
A mobile app
One of the nicest things about HootSuite is that you can make a tab for each of your social media feeds, which can save you a lot of time. It also has keyword tracking, which allows you to keep current with what's trending across all of your social networks and tweak your content to match.
Another nice feature is the ability to write status updates on HootSuite and then push it to all of your social media accounts simultaneously. This ensures that your content lands exactly when you want it to, rather than being spread out over the time it takes you to navigate through each site to publish.
Publishing and Reporting
HootSuite can also pull content directly from one site and then post it on another, making it easier for you to both share other people's content and move your own content between different blogs. Finally, the HootSuite analytics tool is great for creating professional reports for both yourself and your clients to refer to in meetings or online.
There are some downsides however; whilst HootSuite is obviously a very deep program which can reward the advanced user, it has a steep learning curve, which may not ingratiate it with new users. In the same vein, its report function is not as simple to execute as Buffer's. HootSuite also has bolt-on elements that cost an additional sum on top of the base price, and some users may be frustrated to find that the service they want is hidden behind a paywall.
Core Features: Buffer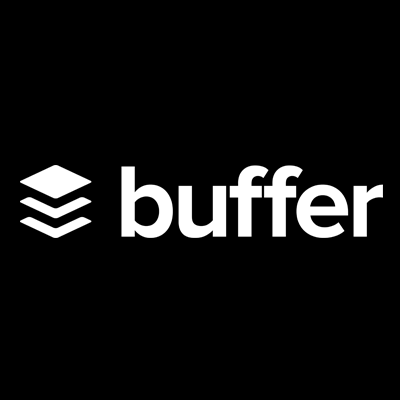 Buffer offers many of the same features as HootSuite. It allows you to schedule your social media updates for the major social media networks (Facebook, Twitter, G+ and Alpha.net) as well as grab pages to post on your own blog with browser extensions.
It also now offers analytics reports for its users, but they are much more accessible and user-friendly than HootSuite's offering. With just a few clicks, users are able to see how many people are commenting, liking and sharing posts. This is, in a nutshell, the big advantage of Buffer over HootSuite. Buffer is just a lot more accessible for the first time user. Pair this with a good mobile app and you have two reasons to consider Buffer as well as HootSuite.
Content Curation Features
Buffer has a lot to love if you're a content curator. You can send articles you've found on the web or your RSS feed directly to Buffer and it will then post them as links to your social media as and when you want. You can schedule all of your posts in this manner, meaning that you end up spending much less time managing your social media and more time doing work. The app too is very streamlined and makes organising your social media presence easy, whether you're at your desk or on your way for a haircut.
Buffer also has an excellent blog which they keep stocked with lots of interesting articles on content creation and the blogging business, it's a nice bit of added value, though you don't have to be using Buffer to read it.
Some of Buffers limitations can be frustrating however. It doesn't currently allow you to see updates or feeds from your social networks which, as a result, sees you bouncing between Buffer and your browser. Similarly, the mobile app sometimes redirects you to the Buffer website, which can be very frustrating.
Side by side
When you put the two programs alongside one another, you can be forgiven for thinking that they may actually be for different things. HootSuite's wide net ensures you can control most of your social media presence from one piece of software, but can mean that you lose sight of which is your main social media platform. Buffer allows you to feel more connected to what you consider to be your main social platform, be it Facebook, Twitter or Google+.
You could make convincing arguments that different programs are better for different networks. Buffer supports more personal profiles, (sites like Myspace, Foursquare and non-hosted WordPress) than HootSuite, whilst lagging behind a little with the broader social media businesses might use.
Really, if you've got the money to do so, then there's no reason you shouldn't explore using both, perhaps starting with Buffer and then expanding out into HootSuite as your social media load increases and you become more experienced. No matter which of these two pieces of software you choose, you should find your social media load considerably lightened, freeing you up to do more.
THE word in professional, persuasive, digital writing. Specialists in writing, tweeting and social sharing for businesses across the globe.