How a winning strategy created 2.6K new leads in 3 months!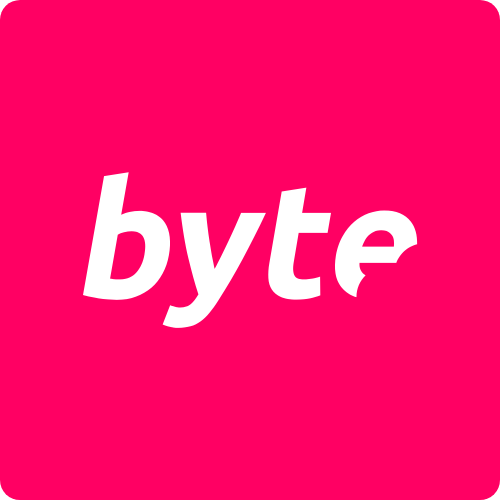 Byte have developed a new and exciting CRM platform for the Restaurant & Hospitality Industry. Their technology enables restaurants and hotels to build rich customer profiles which can be used to tailor experiences and provide the best offers and rewards to both new and existing customers.
After a successful kickstart, Byte approached us with the proposition of creating their brand identity and helping them best position themselves to target the Restaurant industry through, Digital marketing and SEO tactics.
Build their brand, create a new website, execute a digital marketing strategy
We wanted to create a brand identity that was modern yet playful to make Byte both accessible and interesting within their target market.
After some market research we found that one of the biggest challenges Byte faced was getting restaurant owners to understand how Byte's technology and plattform worked and how it could be used to greatly improve the experience restaurants provide to their customers.
Byte faced another unforseen challenge in the fact that when they launched their brand Covid struck the country.
We quickly reaslised however, that this challenge proved to be a great opportunity and we created a highly relevent e-book to explore the future of small restaurants post-covid.
After a successful a successful advertisting campaign on Facebook, our e-book, titled "The New Normal: Three Futures For Small Restaurants After COVID-19" generated over 2,600 new business leads.
Clear objectives, precise execution and innovative thinking.
We built a robust, modern, responsive website to support Byte's vision of becoming the number one Customer Management Platform for the Restaurant and Hospitality Industry.
Playful, modern, sleek; the three attributes we wanted to use to make the Byte brand exciting and accessible Restaurant owners across the UK. Other design work included: Including print material, signage, and social material.
Ensuring Byte ranked highly on Google for the right keywords that would help to grow their brand was pivotal to their digital marketing strategy and reaching new prospects across the web.
Establishing tone of voice and creating highly relevant and engaging content to attract leads and get the Byte brand recognised and trusted within the Restaurant industry.
Utilising paid advertising to fast-track their marketing efforts and reach more prospects within a shorter time frame.
Total impressions were generated from one social media campaign.
New and high-quality leads generated within 3 months of launch.
Average lead cost throughout our Paid advertising campaigns.
New ongoing revenue generated on launch through B2B marketing.
Richard O'flynn
Byte Managing Director
"Our partnership with 201 Digital was pivotal in the success of our launch. We were able to reach more prospective customers and create a lasting impression with restaurant owners across the UK to help build a community around our brand that is just as invested in our service offerings as we are. We will continue to work alongside 201 for the foreseeable future as we grow together."